A comic fantasy adventure story where the mythic trickster characters of Coyote and Raven, common to many indigenous folktales, try to help a Northwest tribe prevent the construction of a devastating pipeline. The problem is, being tricksters, they can really make a mess of things. Working in collaboration with my friend Carpio Bernal of the Taos Pueblo.


A children's Christmas story about two young orphans and a gruff old man who makes the most beautiful magical santons (holiday figurines) in France. Can the kids save the magical santons from the greedy and powerful Madame LeNoir?


As a teen, beautiful Niki was the victim of sexual abuse by her father, an elegant aristocrat whom no one suspected. Many of Niki's choices in her career and her life were a result of the anger and self-loathing that so many victims of abuse harbor within. Niki was able to transcend her suffering when she found art to channel her untamable emotions. Her radical decision to leave her children in order to pursue her art, and her own sanity, came at a time when women were very much shackled to their husbands.
In 1959, Niki is a vulnerable 27-year-old with two small children, almost secretly pursuing painting. When her unconsciously patronizing husband suggests a trip to meet the celebrated painters Joan Mitchell and Jean Paul Riopelle, Niki will find herself fighting to find a space for herself. Joan, renowned for her drunken brawls and blunt style, as well as her astonishing paintings, will make for a demanding mentor. Eventually Niki will find her own voice. It is so revolutionary, it is almost frightening. And she will turn her life upside down.
This script began when I read a line in one of Niki's autobiographies about how Joan Mitchell's sarcastic badgering forced her to take stock of her own life. I had been in talks with producer Gabrielle Tana (Philomena, The Duchess, The White Crow) about a film on Niki. She suggested centering it on this consequential meeting between the two artists. The script was invited to the eQuinoxe European scriptwriting lab, where I was able to polish it to its current version. It will be shot in a seaside house in Brittainy, taking advantage of the rawness of nature, the extraordinary play of light and dark, and the jubilant but menacing ocean. Joan Mitchell sees colors of nature so vividly, she literally vibrates, while the changeable tumultuous clouds will reflect Niki's own tormented inner landscape.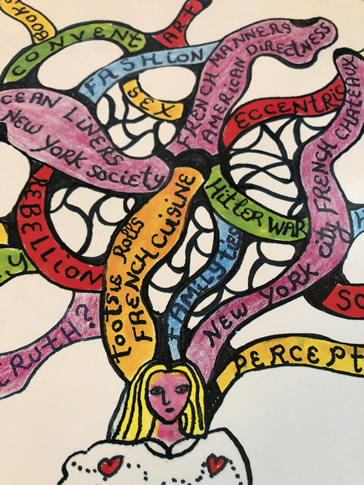 TO LOVE TO DIE
Romantic Comedy
Harris Winokur has everything, including an obsessive fear of dying. Charlotte is the free-spirited astrologer he falls in love with, and whom he hopes will help him overcome his fears. But... can she murder for love? Find out how far love can take you in this romantic comedy set in Paris.
Mañana is about procrastination, or how the road to hell is paved with good intentions...
Marie (the charismatic Fanny Gilles) wonders why people find it so hard to be good. Seeing her neighbor is sick, she decides that buying her flowers would make her good. But this simple gesture turns out to be difficult to accomplish, what with all the stresses of life, and the ideal of goodness more elusive than she thought.